Welcome to our product information page.


We currently offer two books of Christian Poetry and Scripture in Verse and a handbook for Bible Study, by the author Neil Johnson.


These are:


Take Your Place US$9.95

68 pages


The Second Mile US$9.95

60 pages


The Way Ahead US$9.95

60 pages



The contents of each book are described below.


All of the items listed above are currently in stock and can be forwarded via AirMail to your location. Airmail Postage and Handling charges of US$5.00 will be applied to each order.


For more information or to place an order, please
contact us via email: authorpoet@fastmail.fm or by forwarding payment by airmail to Neil Johnson at:

PO Box 700
South Perth WA 6951
AUSTRALIA

Alternatively, you can pay by credit card using PayPal - it's fast, free and secure. Just press any of the 'Buy Now' buttons below to use this convenient method.


Your order will be despatched immediately upon the receipt of clear funds.


Ask us about discounts for larger orders.


Thank you.


It is the authors prayer that the verses presented in these three books will inspire and encourage readers in a closer walk with God throughout their journey of life, whatever their circumstances.
WHAT OTHERS SAY...
The Rev Noel Blyth, The Christian and Missionary Alliance:
I have not seen, in my lifetime of teaching and mentoring in pastoral and missionary service, such a core book of teachable and challenging thoughts on Faith and Discipline ..... The author has earned the right to be heard.

TAKE YOUR PLACE

DISCOVERING LIFE CHANGING FAITH AND DISCIPLINE

Take Your Place explores the topics of faith and discipline in the New Testament book of Hebrews. It explains how we can experience spiritual growth in a sinful world. In a step-by-step approach to Gods Word, it reveals the way faith and discipline work together.

Take Your Place is a message bringing comfort in the midst of suffering, as we learn to deal with trials that are temporary, yet transforming.

The book is dedicated to the seekers of success - those quiet achievers who are willing to look beyond the hardships and disappointments of life and discover the good things that God has prepared for them.
CONTENTS



Take Your Place



Introduction

Take Your Place (Poem)



Chapter 1



The Call To Faith Hebrews 12:1-2



Man On A Mission

People Going Places

Answering The Call

The Historical record

Unlikely Saints

People Die, But Faith Lives On

They Burnt Their Bridges

The Measure Of Success

Signs Of Success

Study 1: Look To Your Calling

The Witness Within (Poem)



Chapter 2



The Challenge Of Faith Hebrews 12:2



Faith Forever

The Evidence Of Faith

Called To Account

Unity In Jesus

Definitions Of Faith

Faith Factors

Living By Faith

SDome Problems With Faith

Signs Of Success

Study 2: Look To Your Faith



Chapter 3



Faith And Character Hebrews 12:1a



Personal Potential

Credibility Gap

Character Cleansing

Unloading Hindrances

Helpless, But Not Hopeless

Secret Sins

Replacement Strategy

Goal Setting

Signs Of Success

Study 3: Look To Your Character



Chapter 4



Faith And Committment Hebrews 12: 1-2



Take Your Place In The Race

The Reasons For Running

Struggling With Motivation

Fixing Our Eyes On Jesus

The Point Of No Return

Confidence In The Champion

Signs Of Success

Study 4: Look To Jesus



Chapter 5



Courage And Compassion Hebrews 12: 3-4



Prevailing In persecution

The Nayure Of Sin

Persecution Is Universal

There Is No Middle Ground

Resisting Evil

Courage And Compassion

Signs Of Success

Study 5: Look To The Cross



Chapter 6



Comfort From Correction Hebrews 12: 5-10



Divine Discipline

Respect

Tough, But Tender

Remaining Positive

The Effects Of Discipline

Heed The Warnings

Submission To God. What Does It Mean?

Our Struggle With God

Learn Not To Lose

Spread Your Wings

Signs Of Success

Study 6: Look To The Father



Chapter 7



Ready To Rule Hebrews 12:10-13



The Heavenly Harvest

Humbleness Before Honour

Get With The Strength

Signs Of Success

Study 7: Look To The Throne Of God



Epilogue



From Suffering To Celebration



Together We Will Win (Poem)


THE SECOND MILE

CHRISTIAN POETRY AND SCRIPTURE IN VERSE

Dedicated to The Glory of God, and to those who love His Word.

Christian poetry is one of many ways of expressing the truths of Scripture, to awaken a persons thoughts, feelings and aspirations. It can be used in prayer, worship and Bible study to promote spiritual growth.

For this reason, most of the poems in this book have been provided with scriptual references to encourage the study of Gods Word.
CONTENTS

The Second Mile

Devotional
Search My Heart
My Saviour
The Other Side Of me

The Cross
Before Time Began
The Manner Of Love
It Is No Secret

Creation
The Beginning And The End

Christian Character
Sure And Certain
Does Our Faith Go Astray?
Simple Faith
Christian Character
Love Never Fails
Released
The Good Samaritan
The Way You Judge Others
It Depends On You
Seeking Wisdom
Unworthy Vessels
Faithful Praying
One Thing Is needed
The Life Of Harmony
Humbleness And Unity

Prayer Life
My Father's House
Ask, Seek And Knock
Persistent Prayer

Christian Service
The Sower And The Reaper
The Gardener
Generous Giving
We Must Do Our Best
Fan Into Flame
Bringing Encouragement
The Measure Of Ministry

New Birth
New Birth
From Darkness To Light

Testimony
Can God Change Me?
Set Free From Prison

Prophecy
The Light Of The World
One Against Four Hundred

Miscellaneuous
The New Year
The Banquet
The Golden Rule
Christmas Verse
Wedding Prayer
Baptism


THE WAY AHEAD

INSPIRATIONAL POETRY FOR SEARCHING MINDS AND HUMBLE HEARTS

The Way Ahead is a collection of poems written to emphasize Christian values and the need for a practical understanding of biblical truths. Scripture references are given with each poem to acknowledge the authority of the Bible, but there is no intention to limit the interpretation of the passages referred to.

The booklet is offered as a resource for Christian living, to be used during daily devotions, Bible study and outreach.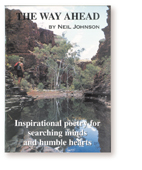 US$9.95 + P & H
CONTENTS

The Way Ahead

Salvation

The Way Ahead

Devotion
I'm Moving On
Day By Day
Love In Full Measure

Encouragement
Step By Step
Refuge And Strength
Today Is The Day
The Answer Is Jesus
The Age Of Opportunity
Give Your Cares
Do You Wonder?
The Fullness Of Jesus
Faith, Hope And Love
Forgiveness

The Gospel
The Living Word
Free From The Law

Christian Character
The Inner Man
Our Character
Grace And Faith
Unity
Building The Temple
Life's Examples
The Joy Of The Lord
Endurance Trials

Christian Service
Servant Set Free
The Gifts Of God
Run The Race
Beyond The Cross
Can Two Walk together?
Reliable Relationships
The Power Of Prayer
The Answer To Prayer
Who Will Make A Stand?

Learning From The Parables
The Parables Of Jesus
We Should Love Our Neighbour
You Are The Man
The Return OF The Prodigal
The Lost Sheep

Bible Characters
The Footsteps Of Faith
He Saw Their Faith
Courage Against The Odds
The Determined Woman
Four Desperate Lepers
An Act Of Kindness
Good And Evil
Pay Heed To The Harvest
Priority, Not Praise
The Redeemed Of The Lord

Miscellaneous
No Hiding place
The Search For Easy Street
A New Beginning

Neil Johnson PO Box 700 South Perth WA 6951 Australia